Throughout the year, Aria Marketing participates in a variety of charity events to give back to the local community and spread awareness of important causes. Often, we try to find organizations that align in some way with our PR agency's focus on healthcare. Our most recent charity involvement has been with The Jimmy Fund, a non-profit organization that raises funds to support research and technology for Boston's Dana-Farber Cancer Institute. Aria made it our mission to raise at least $3,500 as a team and walk the Boston Marathon® Jimmy Fund 10K on September 24th. To date, we have surpassed our goal and kept the momentum going. Getting there wasn't easy, but there were a few successful tactics we employed which we thought we'd share to help inspire other companies in their fundraising efforts.
Setting ourselves up for success
Aria created a goal thermometer to track our progress. This was also a fun way to see how far we had come and how much further we needed to go. Keeping this tracker front and center in one of our conference rooms was a great way to remind ourselves to keep pushing every day to reach our goal.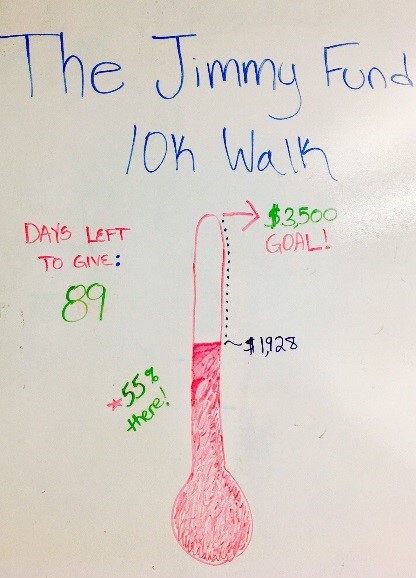 Incorporating social media
To push ourselves even further, the entire team promoted our participation through our personal and our company social media channels. We shared our progress through Instagram and Instagram story, Facebook, LinkedIn, and of course, Twitter. Generating interest in our fundraiser wasn't an easy task, but by tactfully sharing updates week-to-week it kept our followers engaged and up-to-date, while also keeping The Jimmy Fund in the loop so they knew how close we were getting.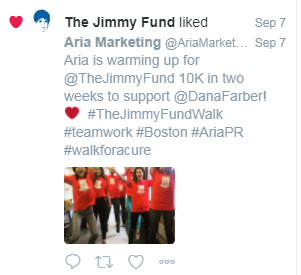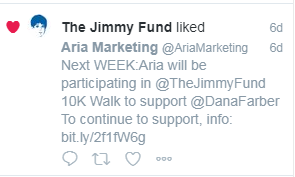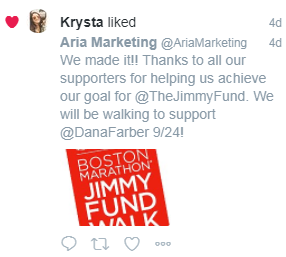 Sharing our accomplishments
Throughout the past couple of months of fundraising, we made sure to keep our eye on the goal and use our skills in social media and marketing to draw attention toward our efforts and miletstones. We can't thank our donors enough for helping us reach our goal to help the Dana-Farber Cancer Institute. And, there is still time to donate! Please visit our team page to continue to support The Jimmy Fund.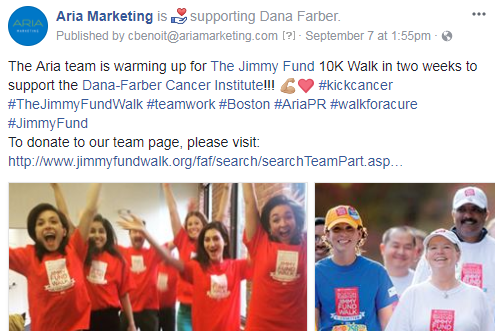 Be sure to follow Aria Marketing on Twitter and Instagram for live coverage as we head to the starting line for the Boston Marathon® Jimmy Fund 10K Walk on Sunday, September 24th.