As a PR agency that specializes in healthcare, we rely on Twitter as a way to stay up to speed on all of the breaking news and policy changes that occur on an hourly basis in today's 24/7 media world. More than that, Twitter is also a way for us to show our personality, engage with other industry experts, debate a hot topic, or take ourselves a little less seriously. Whether you are looking for a way to stay up to date on the latest news in healthcare IT or looking for a little entertainment, here are some of the Aria team's favorite Twitter accounts:
Matthew Holt: @boltyboy
As the founder of @THCBStaffand @health2con Matthew knows his stuff when it comes to the healthcare IT industry. His tweets often share breaking healthcare news, but he also finds time to add a little humor to the Twitterverse. Case in point: he recently interviewed one our clients, Medfusion, while sitting on a unicorn float.
Colin Hung: @Colin_Hung
Colin is an award-winning marketing executive who has spent more than a decade focused on building out and championing the @HITMarketingPR community. He tweets a mix of healthcare IT marketing news, live tweets from industry events (he was a #HIMSS19 social media ambassador) and comments on industry trends. A proud member of the #pinksocks tribe, Colin brings people together from across the healthcare spectrum and serves as a reminder to make time to have a little fun at work.
Christina Farr: @chrissyfarr
As a health and technology reporter for @CNBC, Chrissy has an active Twitter account where she frequently retweets and comments on breaking industry news, specifically relating to health, wellness and medical technology. Chrissy is up to date with the latest news, always uses trending industry hashtags, and posts lots of polls to foster discussion and engage with her large following.
The New York Times Health Desk: @NYTHealth
For those who want to stay up to date with the latest industry news, The New York Times Health Desk posts a steady stream of stories (hourly!) throughout the day. Whether you need a single stop for scanning headlines or want to take a deeper dive into a hot issue, this account will keep you updated on all the biggest healthcare news in real-time so you can stay informed throughout the day.
Jen Bresnick: @JenRoseBresnick
A fan-favorite within the Aria office, Jen is a must follow – especially during HIMSS-- where her very relatable comments about #HIMSSanity always get a chuckle – and retweet--from the team.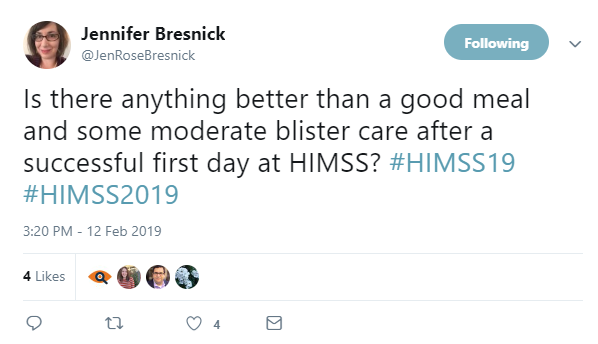 Last but not least, our own Twitter account @AriaMarketing is pretty great too! Tweet at us to start a conversation about all things healthcare and/or PR, and follow us to stay up to date with breaking industry news and to see our client news and coverage.