Though the healthcare industry is typically slower than others to modernize, most healthcare IT companies have taken the leap and fully embraced the power of social media. At Aria Marketing, we manage social media accounts for many of our clients, including precision medicine company 2bPrecise. More recently, spurred on by the pandemic, we've delved into some paid social media campaigns in an effort to better target an audience and drive engagement.
COVID-19 threw a huge wrench into everyone's year, and for the healthcare IT space, it led to the cancellation of HIMSS, our industry's largest conference. As with any conference, HIMSS provides a great opportunity for networking and connecting with potential sales prospects. With the cancellation, 2bPrecise had to brainstorm new ideas for how to virtually connect with the potential prospects that their HIMSS attendance would have generated (while trying to avoid hosting yet another virtual event or webinar like most other companies).
Given 2bPrecise's existing organic social media program, our teams decided we would develop a paid LinkedIn campaign. Aria had seen some success with paid LinkedIn campaigns in the past and thought it would be a good way to precisely target individuals from provider organizations who 2bPrecise missed meeting at HIMSS: genetic counselors, medical directors, chief medical officers, etc. While hashtags can help expand the organic audience reach beyond 2bPrecise's followers, a paid effort would ensure the campaign reached the right people outside of 2bPrecise's existing network.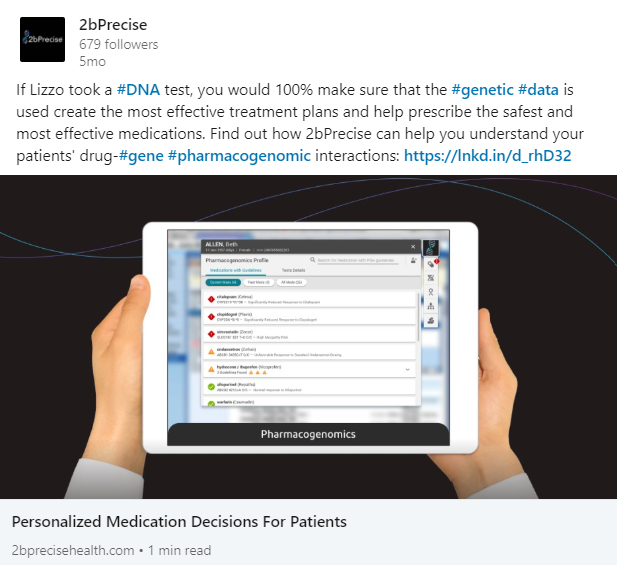 With companies scrambling to make up for lost leads due to the pandemic, we needed to make sure the message was captivating enough to warrant engagement. We thought, "It's 2020. How about a meme?" Lizzo's "Truth Hurts" had taken the internet by storm, particularly the lyric "I just took a DNA test, turns out I'm 100% that…" Given 2bPrecise's ties to DNA, genetic testing and precision medicine, we decided to play off of Lizzo's momentum to highlight the increase in patients receiving genetic testing and how 2bPrecise could help clinicians leverage that data at the point of care in their treatment plans.
We developed three posts to run through the course of a month. We also shared these posts to 2bPrecise's main LinkedIn page so that the company's followers could engage with and share the posts as they saw fit. The sponsored posts earned 3,000 percent more impressions and 485 percent more clicks than their organic counterparts.
While paid social media campaigns aren't necessary for your everyday content, they can be incredibly useful in reaching and engaging with a target audience beyond your usual network with specific messaging. If you're looking for a healthcare IT-focused public relations agency to maximize the impact of your social media channels, reach out to us at info@ariamarketing.com.