At Aria, we provide each of our clients with a dedicated PR team that typically consists of a Vice President, a Senior Account Executive, an Account Executive (AE) and sometimes an Account Coordinator (AC). Given this set team structure, AEs and ACs typically do not have many opportunities to collaborate directly with each other on client work.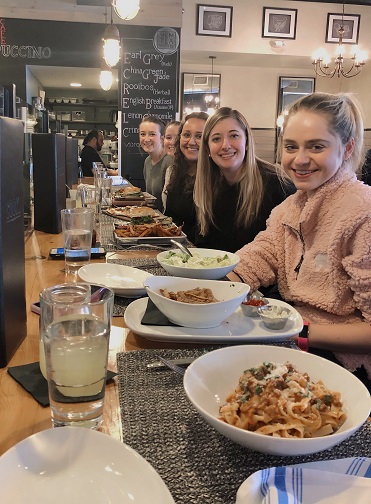 In an effort to ensure that everyone here at Aria has an opportunity to interact and bond, Aria established its peer-to-peer "buddy" program. New Aria employees are matched with a more seasoned peer at their level to show them the ropes and give them a resource to ask questions, work-related or not. The buddy program differs from our Aria mentor program in that buddies have the same or similar titles. Once a quarter, the pair have an official off-site check-in with each other to discuss work, life and anything in between.
When I first joined Aria in September of 2018, I was paired with fellow Account Executive Lindsey Honig. On our first buddy lunch, we visited Cook where Lindsey and I shared anecdotes from our previous agency experiences and she gave me some insight into what to expect out of my new role. From our first check-in to every meeting since, my buddy has been a wonderful resource to leverage for any Aria-specific or broad public relations questions I may have, and has truly become a buddy in every sense of the word.
I decided to take an informal office poll to see where other buddy pairs like to meet up. Cook, it turns out, is a fan favorite at Aria when it comes to scheduling any sort of out-of-office meeting. Last quarter, a record three buddy pairings scheduled their check-ins at Cook on the same day at the same time. The mega lunch was the perfect opportunity to share truffle fries and connect with Account Executives and Account Coordinators that we may not work with on a day-to-day basis.
As the Aria team loves connecting over a good meal, I would be remiss if I did not share other local favorite haunts. Senior Account Executive Catherine Hannum praised Little Big Diner for its comforting ramen bowls that hit the spot on a chilly day. Account Executive Kelsey Pearse is a big fan of Johnny's Luncheonette for its big menu that is guaranteed to have something for everyone. Moody's Delicatessen & Provisions also gets a big thumbs-up from several employees for its hearty, fresh sandwiches and truffle chips.
Are you looking to join a collaborative team of imaginative thinkers passionate about healthcare and public relations (and all things truffle)? Send your resume to jcohen@ariamarketing.com!