Here at Aria, we work hard to achieve great results for our clients, but we also love to blow off steam as a team. Every quarter, our Fun Committee is in charge of putting on a big event for the team to kick back, relax and have a great time. This time around, we wanted to try something a little different. Not only did we want to host an enjoyable event, but we wanted to create something special for the office. And what better place to do that than at Paint Bar!
At the end of April, the Aria team headed over to Paint Bar in Newton for a night filled with drinking, laughing and painting! While the team knew we'd be creating a painting, what they didn't know was that the Fun Committee had worked with Jackie, the Co-Founder and Creative Director of the Paint Bar, to design a customized mural for the Aria office that we'd create together. To complete the project, we had to work collaboratively throughout the night, but were still allowed to express our own creativity through color choices and designs. The final piece is uniquely Aria, and something the team can take pride in for creating together.
We asked the team what their favorite part of the night was and here's what some had to say: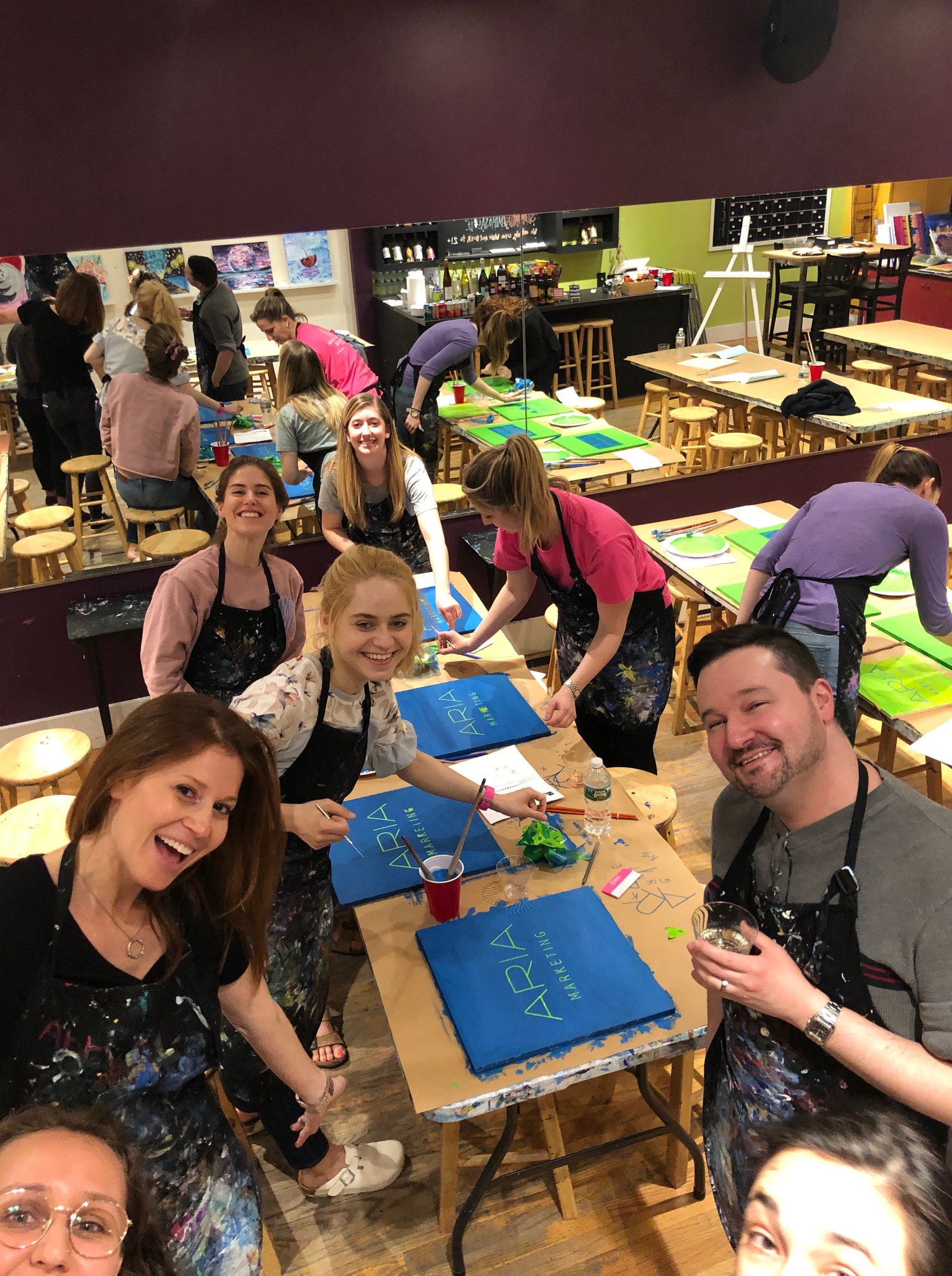 "For five years, we have looked at this massive white wall in our office space and wondered what we would possibly hang on the wall that would accurately capture our brand and our culture. In just one night at the Paint Bar, we figured it out: a mural made by us, for us – a perfect reflection of the team-oriented culture we have built at Aria!" – Jessica Cohen, Executive Vice President

"My favorite part was seeing everything come together in the end. We all worked so hard to create the final product so it was cool to take a step back and see the awesome piece of art we made together!" – Kara McCrudden, Account Executive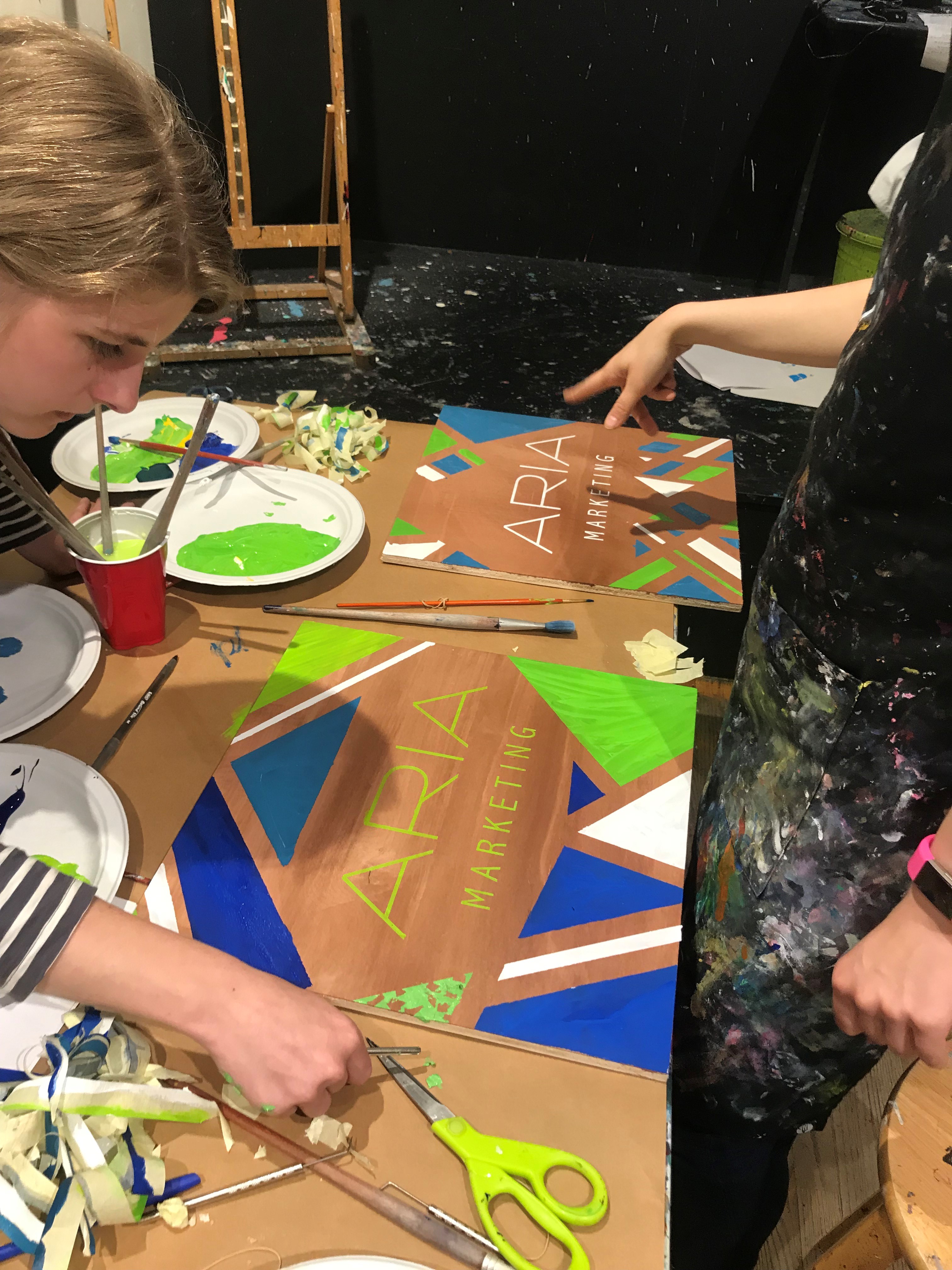 "I really liked the part where Jackie, our facilitator, taught us about growth mindsets. It's a valuable skill in PR to be able to change course and find new opportunities. I also enjoyed that we were able to work with people who we may not be on accounts with but see every day in the office since we are a tight-knit agency." – Lindsey Honig, Account Executive

"As a creative person, but not one that identifies as a visual artist, I had a phenomenal time at paint night. It was an excellent opportunity to flex my creative muscles and pick up a brush without feeling the pressure to paint the 'perfect picture.' My favorite part, though, was our host kicked off the night by referencing one of my favorite TED Talks, featuring Sir Ken Robinson and discussing creativity in education."– Ashley Owen, Senior Account Executive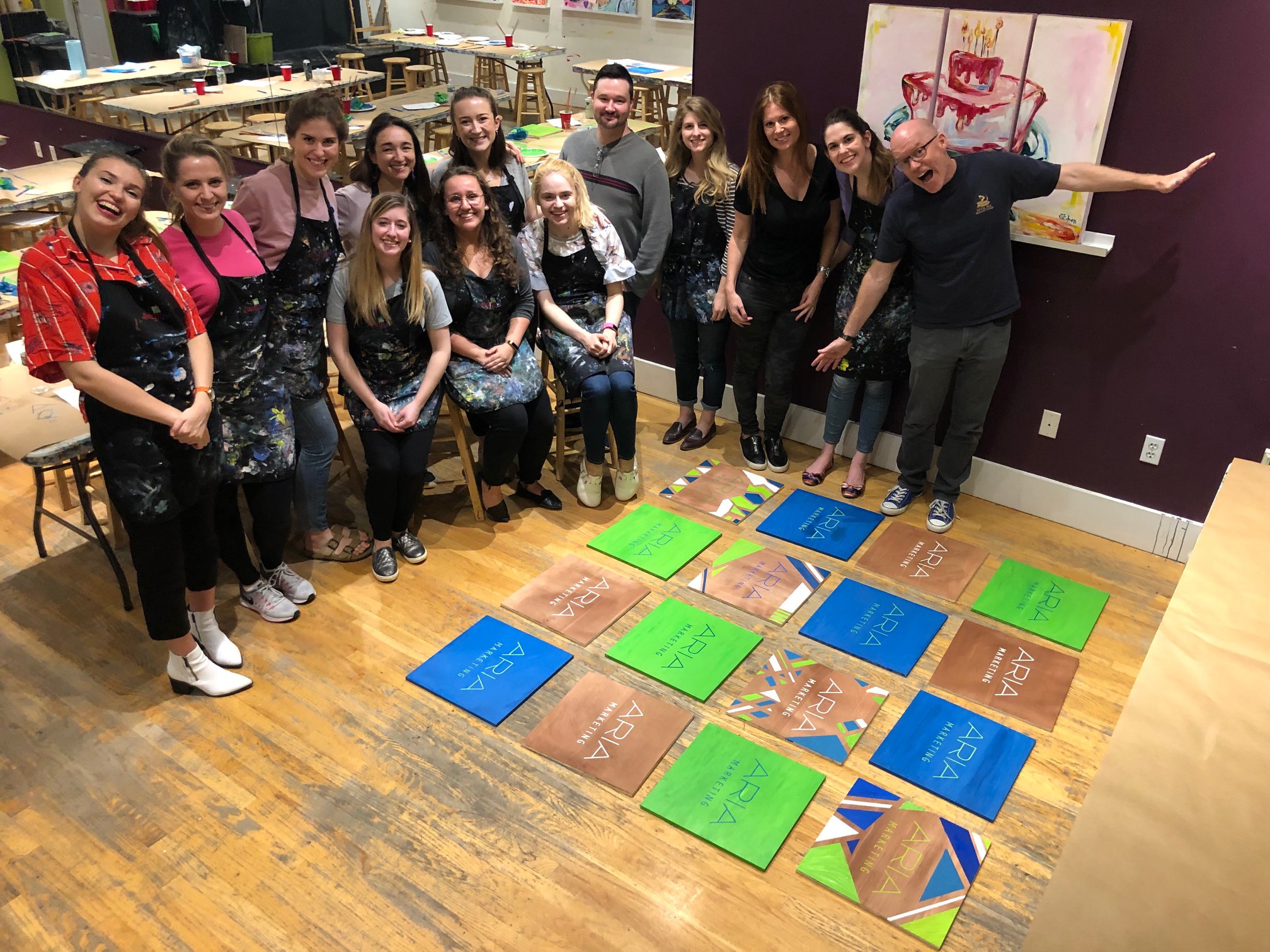 Want to see the finished product of our Paint Bar excursion? Be sure to follow us on Instagram, Twitter and Facebook for the first look of the mural in our office which will be coming soon!
Interested in joining Aria team in for our next artistic adventure? We're hiring! Send your resume to jcohen@ariamarketing.com.